This one didn't quite make the trip as easily as FAIR:



        The LEAP Report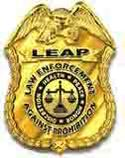 LEAP into Action
                                                                                                                  Issue VI, Volume II
Criminal Justice Professionals Speaking Out Against the "War on Drugs"
LEAP in Action November 2008
This issue...
·         From the Desk of the Executive Director
·         Did you Know?
·         State by State
·         Volunteer of the Month
·         Campus Communities
·         Make the LEAP
From the Desk of the Executive Director
Thank you to our members in Massachusetts and Michigan for their significant work in bringing about the decriminalization of marijuana and reducing some of the harms of this horrible war. 
Here in Massachusetts, we brought decriminalization in, with 65 percent of the vote in favor of Question 2.  And we did it while doing what we do best: convincing people that we must create a system of legalized regulation for all drugs.  Leading up to Election Day, I made this addition to my usual LEAP plea: "Legalized regulation must be conducted at a federal and international level, but there is something you can do right now, right here in Massachusetts to reduce some of the harms of the war on drugs: You can vote yes on Question 2, which will remove possession of an ounce or less of marijuana from any criminal sanction and make that possession punishable by a civil fine of $100."  In all the live presentations and all the radio talk shows I gave in Massachusetts during the last two months, there was not one person who publicly disagreed with voting yes on Question 2. 
LEAP can take a bit of the credit for Massachusetts' decriminalization of marijuana, and being able to take that credit elevates LEAP even more in the minds of other drug, prison and harm reduction transformers. 
Again, thank you to all of our members for your continued support.
-Jack A. Cole
Executive Director
Did You Know?
Whether you are talking about State initiatives, working on Capitol Hill, reaching out to opinion leaders in college, government and business or impacting the international community, LEAP was there leading the conversation.
Speakers Eric Sterling and Norm Stamper spoke to the New Hampshire Association of Counties about the economics of prohibition, influencing decision makers in local government. 
Speaker Russ Jones and Dr. Sally Jones shared the stage at the 54th Annual Social Work Educators conference in Philadelphia, Pennsylvania where they helped shape what the next generation of social workers will think about the current drug policy.
State By State
Here at LEAP we're still celebrating the victories in Michigan and Massachusetts.  Jack Cole, Norm Stamper, Rick Van Wickler and Greg Francisco hit the streets and airwaves to educate the public about the effects of those state ballot initiatives. It was all hands on decks as our media team, speakers bureau and volunteers worked together to give voters a clear picture of the impact of these initiatives on law enforcement and the criminal justice system.
Volunteer of the Month
This month we'd like to spotlight Whitney Garlinghouse.  Whitney could be doing a lot of things with his time, but after careful consideration he decided LEAP was the place to invest.  Whitney joined the media team with an eye on radio.  Whitney has been beating the digital highway reaching out to radio programs that previously featured LEAP speakers.  Radio is a great way to get our message out to a wide audience.
Much of our media this month was radio.  Whitney placed Earl Barnett on the air in Baltimore,Maryland and David Doddridge on the air in Slidell, Louisiana in addition to the outstanding efforts he made in Michigan and Massachusetts.
Campus Communities
Our Campus Communities outreach is affecting classrooms, students and educators alike.  In Illinois,James Gierach spoke to criminal justice students at Blackburn College, while to the east Rick Van Wickler spoke to Keene College in New Hampshire and Manchester College in Connecticut,and to the north, Alison Myrden appeared at the University of Guelph in Ontario.
International Overtures
The newest documentary featuring LEAP, "THE UNION: THE BUSINESS BEHIND GETTING HIGH" is now available online.  This documentary on the "B.C. Bud" industry features interviews with Jack Cole, Larry Campbell and Norm Stamper of LEAP.  BC's illegal marijuana trade industry has evolved into a business giant, dubbed by some involved as 'The Union', commanding upwards of $7 billion Canadian annually. You can view the documentary at http://blip.tv/file/1356143/.
Make the LEAP
Around the world, organizations are struggling with how to make an impact on the 44th President and the 111th Congress, but opportunity and preparation have already made the way for LEAP.  A struggling economy, deficit state budgets and a booming unregulated drug market give our speakers the perfect backdrop to talk about repeating repeal.  The 75th anniversary of the repeal of alcohol prohibition is December 5, 2008.  Around the country, our speakers are submitting letters to the editor, scheduling radio interviews and brushing up on the comparison between that prohibition and this one.  In Washington, DC our team is preparing to storm the newly elected leaders with the mantra "We can do it again".  
LEAP membership is an important aspect of the Repeat Repeal project.  Take a minute to invite your family and friends to add their voices to ours by joining LEAP today.  Your donation takes us one step closer to making history with the 111th Congress.
We need YOUR help to continue doing all that we do.
If you aren't already, please consider volunteering your time or donating to LEAP. Together we can End Prohibition Now!
If this newsletter was forwarded to you from a friend, please click here to subscribe. 
LEAP Links
LEAP Speakers Blog, click here.