The DA is going to have a hell of a time seating a jury for this guy's trial. 
Philadelphia, PA (AHN) - A man in Philadelphia, Pa. shot another man in the arm at a movie theater, presumably because the victim and his family were talking during the movie "The Curious Case of Benjamin Button."
James Joseph Cialella, 29, was charged with attempted murder, aggravated assault and a weapons violation, according to a report from the Philadelphia Police Dept.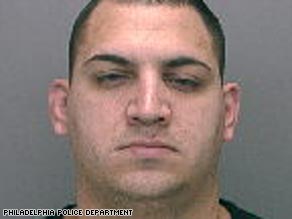 The incident happened on Christmas Day.
Cialella told the family to be quiet. When the family began to argue with him, Cialella approached the family from the left side of the aisle and pulled out a .380-caliber handgun. The father in the family stood between Cialella and the family, and Cialella shot the man in the arm, police say.
Blue Silver on Dec 27, 2008
Arrested? What? give the guy a medal!
Sean on Dec 27, 2008
all i will say is..........it's about time !!! Cialella is my hero !!!!! oh and one more thing to add that has been missing from the above comments is this, if you have a fucking baby and can't procure a sitter for the evening DO NOT bring your yodeling brat to the movie i KNOW me and the other innocent patrons didn't willingly pay 7-10.00 dollars to hear you damn fools shush the crying brat for 10 min before FINALLY getting up and going to the bathroom/lobby before coming back and the kid start the crying process all over again !!!!!
arkdave on Dec 27, 2008
in huntsville, tx, if you are caught texting or talking on the phone during a movie, management escorts you out without a refund.
Mike McRorey on Dec 27, 2008